Our Instructors
Cherie Gessford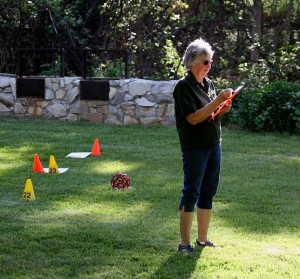 I started taking Obedience classes in the late 1980s. I was so impressed with the training, I joined STKC 20 years ago. That's when I became an assistant trainer for Obedience.
New dog sports have evolved since then. I was introduced to Agility 18 years ago, started training and competing soon afterwards. In those years, four dogs and I have earned 12 Agility Trial Championships. We have competed in five different organizations. Once you are hooked on Agility it changes your life. I still compete at least 2 weekends a month.
Rally Obedience is another relative newcomer to the dog world. Three of my dogs have attained the highest level titles in AKC and two of them are now working on that title in another venue. Rally is a sport that the average pet dog owner can, with some training, compete at dog shows. It is a great way to get started in competition.
Puppy Class is one of my favorites. I love puppies so much, I wish I could get a new one each year. But of course, that's impossible. So this way I get to play with the puppies in class. A good foundation of "learning to learn" is so very important. They will be better companions for the rest of their lives.
Dog training can become a passion and a way of life. — Cherie
Mary Barrett
My love for dogs goes back to earliest childhood. A large part may well have been my mother's influence as she gave me my love of books and brought home a parade of rescue dogs throughout the years. I scoured our tiny public library for anything related to dogs, ordered books from the book club at school and eagerly awaited the arrival of the Bookmobile every two weeks. I nearly always received books about dogs or horses for birthdays or Christmas and still have many of those treasured gifts.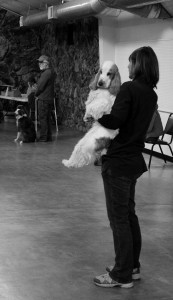 I trained my beloved mutts in the yard and went to the one dog show in our area every year. This was the old days – Mom would just drop me off and come back later. I bought my first book of breed standards at one of those shows and memorized every breed. I drew the plans for my kennels and dreamed of showing dogs.
I was able to try my hand at Junior handling (not very well), as a kid, and also watched a good friend compete in some obedience matches. But, it was many years before I was able to really participate in this sport I loved so much.
In late 2003 I let my son pick out a tiny black and white puppy for a pet. I took him to STKC's Puppy class the following January. He was very smart and easy to train and sailed through puppy and then basic obedience passing the Canine Good Citizen test at 8 months old. In the fall of 2005 I saw a flier for agility classes and knew I wanted to try it. We did the beginning class and then moved on to the next level. We entered our first trial and I was invited to join STKC in 2006.
That was the beginning and I was off and running. Buddy and I competed in agility and rally, but I still didn't have my "show" dog. I added that one and have had many successes with my little Luna, including earning 10 different titles in four areas of competition in 2010, the year she turned two years old. I added my newest show dog in 2012 and this wonderful journey just continues. I love the sport of purebred dogs and I am finally living my childhood dream.
I have been teaching with STKC since 2006. I continue to educate myself on training methods and philosophies: taking classes, attending workshops, viewing training videos and, of course, reading.