It's time to prepare for the season ahead with Rattlesnake Avoidance Training, sponsored by Sierra-Tuolumne Kennel Club.
Training will be held April 20 and 21.
You know they are out there – rattlesnakes!
Every year we receive calls and emails from folks whose dogs have been through the training and afterward SAFELY avoided contact with rattlesnakes.
Your dog will be guided through the training by one of the incredible handlers from Natural Solutions. Your dog will be introduced to rattlesnakes by their SIGHT, SCENT and SOUND. Both adult and juvenile snakes are used in the training. All snakes are safely and humanely muzzled for your dog's safety.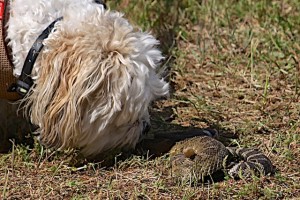 The training is open to all dogs, though puppies should be at least six months old and the knowledgeable trainers from Natural Solutions will evaluate young dogs on the day to make sure they are developmentally mature enough for the training. Training is recommended for three or four years consecutively to help ensure the long term memory retention.
Please be aware appointments fill quickly and the training was fully booked last year. Your completed registration and payment must be received prior to the event to guarantee your appointment. Click here for the registration form.
Training will be held in Columbia CA.